Lomonosov Porcelain Sugar Bowl Singing Garden 20 fl.oz/600 ml
SEE ALL ITEMS AVAILABLE IN THIS PATTERN
Arrange an unforgettable tea party for your family and friends! Set the table with Lomonosov Porcelain Drinkware and don't forget about Porcelain Sugar Bowl !
Features:
Sugar Bowl

is HAND PAINTED. Embellished with 22-karat gold. Hand wash is recommended.
The original

Lomonosov

factory logo is on the bottom of each piece. Genuine Article - 100% Guaranteed.
Material: hard-paste porcelain. Made in Russia by the Imperial

Lomonosov

Porcelain Factory.

Measures: length 7,32", width 5,35", height 5,87". Capacity 20,3 fl.oz/600 ml.
Shipping Weight: 800 gr. (28.22 oz) (1.76 lbs)
Approximate Shipping: $19.95 (Standard delivery Worldwide)
List price: $165.00
Dimensions: length: 7.6 in X width: 7.6 in X height: 5.3 in

Ask-a-Question About This Product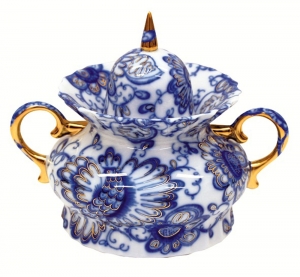 Matching Items