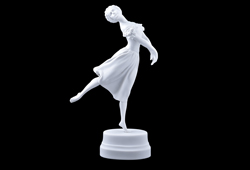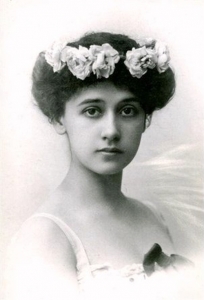 Tamara Platonovna Karsavina (10 March 1885 – 26 May 1978) was a Russian prima ballerina, renowned for her beauty, who was a principal artist of the Imperial Russian Ballet and later of the Ballets Russes of Serge Diaghilev. After settling in Britain at Hampstead in London, she began teaching ballet professionally and became recognized as one of the founders of modern British ballet. She assisted in the establishment of The Royal Ballet and was a founder member of the Royal Academy of Dance, which is now the world's largest dance-teaching organization.
Education
In 1894, after a rigorous examination, Karsavina was accepted at the Imperial Ballet School.  After graduating from the Imperial Ballet School, Karsavina enjoyed a meteoric rise through the ranks, quickly becoming a leading ballerina with the Imperial Ballet. She danced the whole of the Petipa repertory.
Career
Her most famous roles were Lise in La Fille Mal Gardée, Medora in Le Corsaire, and the Tsar Maiden in The Little Humpbacked Horse. She was the first ballerina to dance in the so-called Le Corsaire Pas de Deux in 1915.
The choreographer George Balanchine said he had fond memories of watching her when he was a student at the Imperial Ballet School. Shortly before 1910, she began spending time regularly in Paris to dance with the Ballets Russes of Sergei Diaghilev. During her years with the company, she created many of her most famous roles in the ballets of Mikhail Fokine, including Petrushka and Le Spectre de la Rose. She danced the latter with Harold Turner. She was perhaps most famous for creating the title role in Fokine's The Firebird with Vaslav Nijinsky, her occasional partner. (This role was originally offered to Anna Pavlova, who could not come to terms with Stravinsky's strikingly new score.)
Karsavina left Russia in 1919 after the revolution, and moved to Paris, where she continued her association with the Ballets Russes as a leading ballerina. (Her brother Lev Platonovich Karsavin left Russia in 1922 and in 1928 moved to newly independent Lithuania, where he was awarded a university chair in cultural history (1928–1939). When the Soviets occupied Lithuania in 1940 during World War II, authorities arrested Karsavin and deported him to a gulag, where he died in 1952.)
Karsavina's memoir, Theatre Street (the name of the street where the Imperial Ballet School was located, due it its proximity to the Alexandrovskii Theatre), discusses her training at the Imperial Ballet School, and her career at the Mariinsky Theatre and the Ballets Russes. In the ultra-competitive world of ballet, she was almost universally beloved. Karsavina did have a rivalry with Anna Pavlova. In the film, A Portrait of Giselle, Karsavina recalls a "wardrobe malfunction": during one performance her shoulder straps fell and she accidentally exposed herself. Pavlova reduced an embarrassed Karsavina to tears.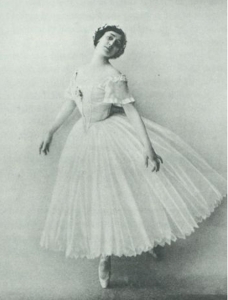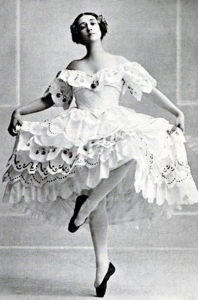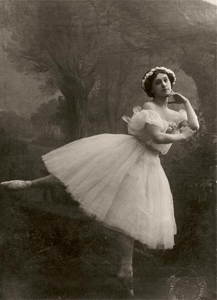 Private life
In 1904, guided by her mother, Anna Iosifovna, Karsavina rejected a marriage proposal from Mikhail Fokine. This led to a simmering unease between the two, which coloured their future relationship. She later said that Fokine rarely spoke to her outside the ballet studio.
In 1907, once again guided by her mother, she married the civil servant Vasili Vasilievich Mukhin (1880 – post 1941), in the chapel of the Ballet School. Mukhin occasionally travelled with her on Diaghilev tours.
In June 1918, a year after her divorce from Mukhin, Karsavina married the British diplomat Henry James Bruce (1880–1951). He was the her son's Nikita (1916–2002) father.
Later years
She moved to Hampstead, England after helping found the Royal Ballet, where she taught. She considered herself under-used and neglected by the management.
Karsavina occasionally assisted with the revival of the ballets in which she had danced, notably Spectre de la Rose, in which she coached Margot Fonteyn and Rudolf Nureyev. In 1959 she advised Sir Frederick Ashton on his important revival of La Fille Mal Gardée for the Royal Ballet. She taught him Petipa's original mimed dialogue for the celebrated scene "When I'm Married", as well as his choreography for the "Pas de Ruban", two passages which are still retained in Ashton's production.